When FAW President Steve Williams arrived at the museum recently with boxes of objects to donate to the Welsh Football Collection, it was a Wrexham supporting colleague who spotted a wooden ball trophy and identified it…as the FAW Premier Cup!
Launched as the Invitation Cup in 1997-98, the competition changed its name to the FAW Premier Cup the following season.
Sponsored and televised by the BBC, the competition featured the top seven placed clubs from the Welsh Premier, joined by the best placed 'exiled' club from Colwyn Bay, Merthyr Tydfil and Newport County.
They played each other home and away in two groups of four, with the top two from each progressing to the quarter-finals, where they were joined by Cardiff City, Swansea City, Wrexham and the Welsh Cup winners.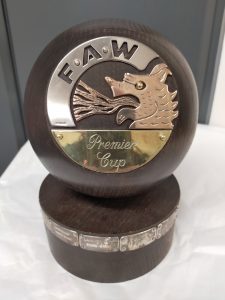 The format was adapted before the start of the 2004-05 competition and eventually ceased in 2008 when the BBC decided to withdraw its sponsorship.
The last final saw Newport County beat Llanelli 1-0, making the Exiles still the official holders!
Wrexham were the most successful club in the competition's short history, playing in eight of the eleven finals that took place, winning five.
The addition of the trophy to the museum's collection resulted in plenty of comments on social media suggesting that it or something similar should return to football in Wales. One for the FAW!
(Source: Welsh Football Data Archive)
Want to read more articles like this? Join our mailing list to get future blog posts and all other Football Museum Wales news delivered straight to your inbox.