The origin stories of six Welsh football clubs are to be told in a brand new series of short films.
The films have been funded by Welsh Government and produced by the team at the new Football Museum for Wales (currently being developed inside Wrexham Museum as part of the Museum of Two Halves project), working with Cardiff based media company, EatSleep Media.
Each film clocks in at around 15 minutes and features exclusive, candid interviews with key individuals from the clubs and the communities who support them.
Six clubs agreed to be filmed for the project, representing the six area associations across Wales.
The clubs documented are Caernarfon Town FC (supporters club, North Wales Coast FA) , Ruthin Town FC (youth football, North East Wales FA), Aberystwyth Town Ladies FC (amateur women's team, Central Wales FA), Merthyr Town (club playing in English league system, Gwent County FA), Pontyclun FC (amateur men's team, South Wales FA), African Community Centre AFC (inclusion club, West Wales FA).
The films will be premiered individually at a number of events taking place across Wales over the summer. The films will also be made available to view for free on our brand new youtube channel, following each premiere.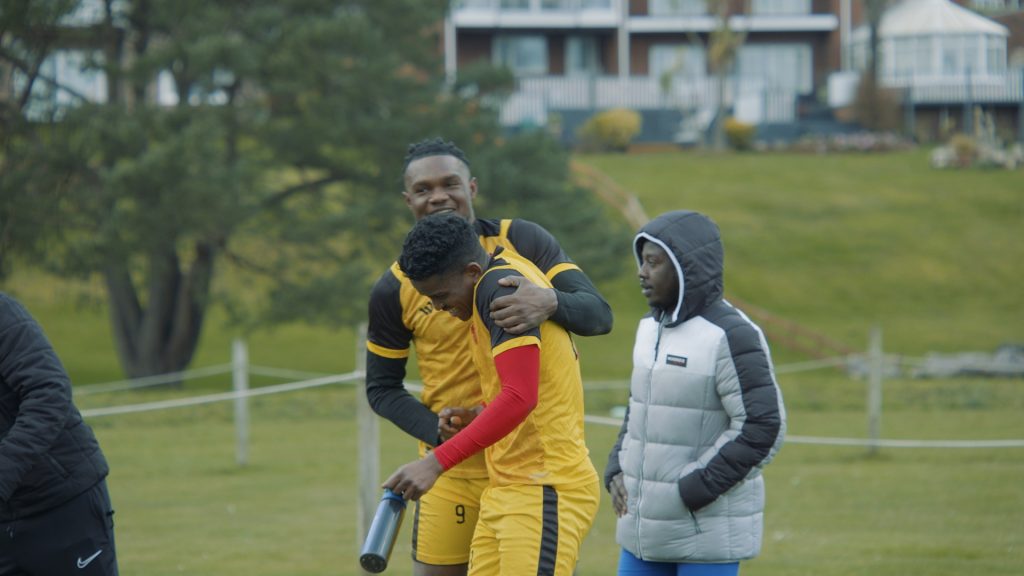 'Football is still a community game in Wales'
Accompanying the filming crew on their travels around Wales were the Football Museum Wales Engagement Officers, Shôn Lewis and Delwyn Derrick.
Delwyn shared his experience of creating the films: "This project has been an amazing experience. We went out to tell the stories of the origins of clubs from across all regions and all levels of football in Wales. We didn't have a massive production crew, we didn't have a special effects budget, we didn't even have an umbrella between us one particular day of filming, but what we did have was a story.
"We spent time at clubs with over a hundred years of history and clubs who have only just started their Welsh football journey, but the story that I found fascinating, inspiring and surprising in equal measure, was that no matter the age of the club, the level of the club or the geography of the club, it seems that every football club in Wales has that small group of hardworking, dedicated and passionate volunteers.
"I wasn't uninspired when we started these films, but I have come away from them even more inspired than ever before. Football is still a community game in Wales and I think that's great, because if it's a community game, then that means that it's still our game, played for the love of the football. The last couple of months have been an absolute whirlwind of late nights, early mornings, cold wind, colder rain and literal hours of travel, but every second of it done with a smile."
A platform for Welsh clubs to have voices heard
Lead Member for Partnerships and Community Safety at Wrexham County Borough Council, Councillor Paul Roberts, said: "The new football museum may be being developed in Wrexham – the spiritual home of Welsh football – but it's mission will be to tell the story of football across the whole country, from grassroots community clubs, all the way up to the national teams.
"This project is a superb example of the engagement work the new museum will be carrying out. As well as documenting an important aspect of Welsh football heritage, the films have also given a platform for the communities who support these clubs to have their voices heard and to share some very thought provoking insights and experiences on what it's like to run a football team in Wales.
"The films make for compelling viewing and I'd encourage everyone to take a look as they are released online over the next few months."
Find out more
Each film will be available to watch on our YouTube channel following its premiere.
You can join the Football Museum mailing list to receive updates about the project, more stories from Welsh football history, plus information about how you can get involved.
Follow Football Museum Wales on:
Facebook – Amgueddfa Bel Droed Cymru / Football Museum Wales
Twitter – @footymuseumwal
Instagram – @footballmuseumcymru
Contact us